Time Worked for Joomla! CMS is a perfect component for reporting hours worked. This is a handy time tracking tool for employees to log the time they spend for their tasks and great software for managers and bookkeepers to prepare payrolls or invoices for their clients.
The component can be used for any type of business where employees are paid hourly and/​or clients are charged hourly. Just installing it into a plain Joomla will give you a great ready-​to-​use tool. We have spent a fair amount of time on polishing every little detail and testing this software. We use it daily inside our team and improve it basing on real life experience.

Briefly the component offers the following:
A convenient functionality for reporting worked hours that includes a calendar with previously logged time.
Filter that allows generating reports by clients, projects, and employers for a certain period of time.
Ability for the administrator to reject reported time requesting changes or mark reported items as not billable.
Ability to add different types of hours worked (overtime, weekend, etc.).
Recent reports statistics per employee and per project (current week, last week, last month, etc.).
Exporting reports into Excel.
Reports printer friendly version.
Leaves management. Adding leaves by employees, approving by administrators.
Automated notifications for employees about not submitted reports.

IT

industry specific options (ticket IDs).
Support of Joomla! user groups and permissions.
Plenty of nice options.
Screenshots
&

Brief Tutorial

The component screenshots and a brief tutorial are available at the demo site http://​time​worked4joomla​.com/.

Quick preview: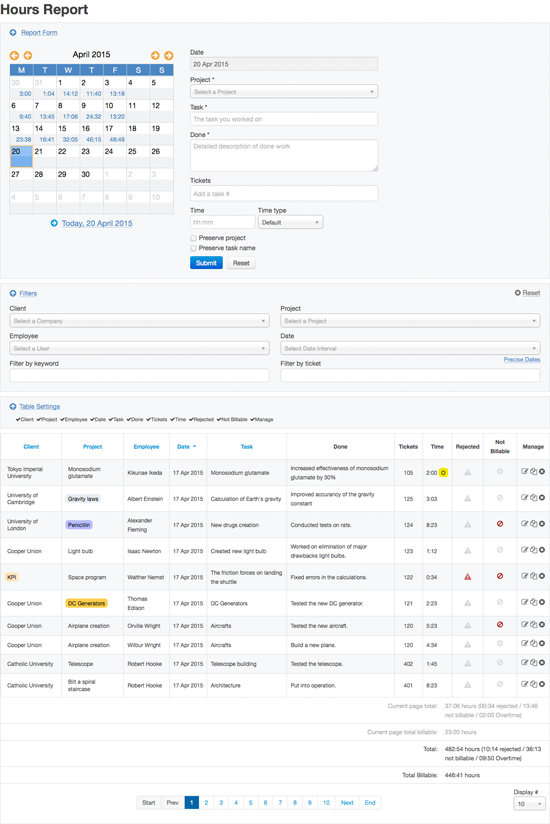 Demo
The demo version of the plugin is available here http://​time​worked4joomla​.com/. Feel free to edit anything the system allows you to edit but please keep in mind that the data is reset automatically once per hour.
Employee user: "albert.einstein", password: "albert.einstein".
Administrator user: "demoadmin", password: "demoadmin". This user can be used at the front-​end and at the backend http://​time​worked4joomla​.com/​a​d​m​i​n​i​s​t​r​a​t​o​r​/.
Download
$39 Time-Worked-4-Joomla-v1.3.2.zip (2.0 Mb)
The license includes 6 months of updates
In addition to the component you can also download a theme that will help you to set up your new time tracking tool. This theme is used at our demo and your website will look exactly the same.
Free Time-Worked-4-Joomla-Theme-v1.0.0.zip (770 kb)
All updates will always be available for free
Help us to work on this plug-​in:
Support
Our support team is always happy to help. You can contact us via http://​sup​port​.giantleaplab​.com. Working hours: 10 am – 7 pm GMT +3, Mon – Fri.
When contacting the support regarding the Time Worked for Joomla! CMS extension please include your license id. You can find it in the license.txt file inside the archive with the extension.